View Brighter for Industry – Crain's Cleveland Business (October, 1992)
October 23rd, 1992
October 1992
From Crain's Cleveland Business
By David Prizinsky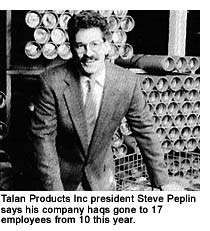 The city's small manufacturers are upbeat about near-term spending and hiring plans, according to a survey 100 neighborhood manufacturers by the non-profit Westside Industrial Retention and Expansion Network.
"I was surprised by the large number of companies that said they were adding jobs and by the 70% who said they will be making capital investments," said WIRE-Net director John CoIm.
According to the WIRE-Net survey, which was conducted in July and completed last week, 61% of the respondents said they would add an average of at least three jobs before the end of the year.
"This is almost a 5% expansion in the average work force size for responding companies," Mr. CoIm said. In addition, 71% told Mr. Coim they had capital spending projects on the drawing boards; their planned investments total $8 million. About 40 member companies of WIRE-Net answered the questionnaire, Mr. CoIm said.
A rebounding auto industry and an aggressive cost-cutting strategy were cited by two of the WIRE-Net members as responsible for their good fortune this year.
"We figure out a way to do something at less cost," said Steve Peplin, president of Talan Products Inc., a 6-year-old metal-stamping company at 1985 W. 68th St. "We're lean; we're efficient, and we work for slim profit margins.
Mr. Peplin said Talan started the year with 10 employees and now has 17.
"We are looking at a record year, with sales up 35% to 40% from last year,' he said.

Posted in: News