Six Risky Things… – COSE Update (March, 2001)
March 23rd, 2001
Six Risky Things They Did for Business That Actually Paid Off!
By Rosemary Rood-Tutt
From COSE Update – March 2001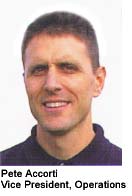 Knowing the Score
"Open-book management is not the end all," says Peter Accorti, one of the owners of Talan Products, a metal stamping company on Cleveland's near West Side. "It's a tool. And if it's implemented correctly, it gives you a very competitive advantage."
In 1999, Accorti began sharing the company's financial information with all 45 employees, even hourly line workers. Greeted with mild cynicism, doubts vanished when Talan paid out 11 percent of gross wages in year-end bonuses. 'Any time people realize they're playing a game and they're winning, it has a very positive impact on the culture," he explains.
Open-book management cuts to the quick. "It distills everything to the most basic level which is 'What are we here for?' " Accorti explains. "It's difficult to drill down to that level unless you go right to the basics." Inspired by Jack Stack's book called The Great Game of Business, Accorti agrees that business is indeed like a game. "You've got to keep score," he says. "But generally, only a handful of people know the score. No one else knows whether we are winning or losing, or what they can improve upon."
Stack bought a nearly bankrupt International Harvester plant in Missouri with a 90-to-1 equity ratio. He kept the doors open by developing key critical numbers to sustain the business and shared them with everyone in the company. Then he devised games around those numbers. "Make everyone aware of the score by communicating information every day," Accorti advises. 'And then share in the rewards."
Talan's managers gather weekly to review profits and flag variances, and the entire company comes together every month for an update. "Everybody knows from week to week what our production is, what our margins are and where the variances are," says Accorti. "Get the whole company focused on improving areas like market share, efficiency or inventory turns. If you want to stay competitive in the marketplace, can you imagine any better way?"
Accorti cautions that open-book management is no magic bullet. There are other things you need to be doing simultaneously. "I don't think you can implement open-book management to the exclusion of other issues like a good, solid approach to strategic planning," he says. "To generate this kind of thing you need a solid financial strategy, sophisticated software and an infrastructure to support it." And a good accountant to generate figures on a weekly basis.

Posted in: News