Perspectives on Business Management
September 27th, 2021
Read the article on the MetalForming magazine website.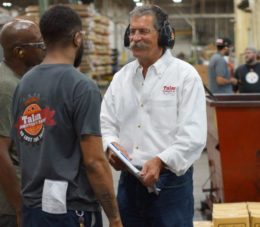 This month we invite Steve Peplin, CEO of Talan Products, to share his insights. Cleveland, OH-based Talan Products "has been growing like a weed," says Peplin, "at about 18 percent CAGR over the last 35 yr.  And, our sales/employee ratio is high, three to four times that of the average metal former."
The firm specializes in high-volume production using a combination of high-speed presses, progressive dies and a robust Design for Manufacturability program. The combo works exceedingly well, as Talan Products has won numerous industry awards and has received recognition from its vendors, customers, civic organizations, national trade groups and sustainability councils.
Q: What's the best management-related book, webinar or event you've recently enjoyed, and what were one or two of the key takeaways? 
Peplin: I'm a big reader and I attend a lot of webinars, so I'll narrow this down to just two books.  First: "The Surprising Science of Meetings," by Steven Rogelberg, who interviewed thousands of employees from a variety of industries to come up with ways to enhance the quality of their meetings. So many meetings are ill-conceived, with the wrong people attending or without clear goals or objectives.  I think I run a pretty good meeting, but after reading this book I uncovered opportunities to improve. One example: Bring positivity and optimism to every meeting. This affects the performance of the others in the meeting. Negativity can ruin the effectiveness of a meeting.
The second book that's impacted me and how we manage Talan Products is "Team of Teams: New Rules of Engagement for a Complex World," by General Stanley McChrystal, who took command of the Joint Special Operations Task Force in 2004 to do battle with Al Qaeda in Iraq. Initially, conventional U.S. military tactics were failing, he explains, because Al Qaeda operated a decentralized network designed to move quickly, strike ruthlessly and then vanish into the local population. To respond, McChrystal knew that his forces needed to match the agility of the Al Qaeda terrorist network. To do so would require building a 'team of teams'—faster, flatter and more flexible than ever. I see the comparison to business today—the speed of business is much faster than ever before, so we've empowered our teams and driven decision-making down onto the plant floor. For example, when scheduling jobs in the shop, we sometimes let the people running the equipment determine the order of the jobs based on their tribal knowledge of how to improve efficiency.  
Q: What is the biggest challenge you face as a company leader?
Peplin: Of course, like most companies we focus a lot of attention on attracting and retaining employees. And one thing we do well, that a lot of metal forming companies don't, is attract a lot of media attention, which serves as a great marketing tool to not only attract new customers but to also attract talent. I always tell people, "We're winning awards not to feed my ego, but to gain visibility."
Bette Midler said once, "They can't love you if they can't see you." That's what marketing is and winning awards and gaining media attention has been invaluable for us in attracting employees to Talan Products.
Q: What are two or three of the most important things you look for in a mid-level manager?
Peplin: We start with our core values, and these are not the ones you display on signs and just talk about, like productivity and quality.  I find that often companies do not live their values. So we boiled it down to four core values and insist that our management team live them. Safety, collaboration, tenacity and respect.
I feel that we have one of the safest companies in the industry, routinely going 5 years or longer without lost-time incidents. And safety pays—our MOD rate for workers compensation is 0.49, the lowest I've ever heard of.  It helps us recruit team members, and customers like safe suppliers.
As far as collaboration goes, we designed the company around high-volume low-mix customers, which allows us to serve a relatively small base of key customers that we can focus a lot of attention on. We become so important to our customers that we're like a part of their companies.  If they have a problem, we have a problem, and it there's a dollar to be saved, we'll split it.
We're also a tenacious company staffed by tenacious people—we keep working on challenging projects until we figure them out, and that philosophy filters from the top down.  And, when it comes to respect, while that might mean different things to different people, we spell it out on our mission statement so there's no ambiguity.  We hire by these values, and we promote by them. 
 Editor's note: Among the bullet points listed under "Respect" on the Talan Products mission statement:
I take responsibility

I am aware of how words and actions affect others and the entire team

I listen to others

I maintain my composure and never make it personal.
Q: What are two things that you believe your company is doing well? What's one thing that you wish you could change?
Peplin: We grade very well on several industry benchmarks, key to managing the significant growth we've experienced—18-percent CAGR over the last 35 yr. We invest three times the industry norm on workforce development, including expansive adoption of the PMA METALFORM EDU virtual learning platform. And, our sales/employee ratio is very high, three times what the average metal former achieves. Keeping direct labor costs low allows us to compete, even with low-cost countries.
One key contributor to our grown continues to be identifying and targeting potential customers in disruptive industries with good growth potential. For example, about 12 years ago we targeted the LED lighting industry, which grew from nothing to a $100-billion industry in 7 yr., and more recently we targeted the solar-power industry, which went from a niche market to become a huge opportunity. We've grown in both markets. Now we're targeting the electric-vehicle market in the same way. 
As far as what do I wish I could change, we're struggling with the shortage in raw materials, most notably extrusions—a big part of our business. Lead times for extrusions has grown from 6 to 8 weeks to as long as 25 to 30 weeks. This has added a layer of complexity to our lives, and to our customers' lives, as we're expanding our supply base and being more proactive with our purchasing—we're already ordering material for Q1 2022.
Q: How do you encourage and motivate your management team?
Peplin: When we do well our team does well.  Historically we've had huge end-of-year bonus pools, 10 percent of our profit. Profit sharing—while it's not the only motivation—works, and I know our team members appreciate it.
Q: Can you provide an example of a solid management decision you made during the COVID-19 pandemic, and how it helped to address a major pandemic-related challenge?
Peplin: I feel like we—the entire management team—did everything we could to keep our employees healthy, a real "belt and suspenders" approach.  Early on we created a robust COVID-19 committee that met several times/week to make sure that we stayed on top of the virus, and educated themselves and our workers. And while a few employees contracted the virus, we did not have a single outbreak. 
During the peak months of the virus we did not lose any business, so maintaining employee health ensured that we were able to continue to serve our customers. At the beginning of 2021 we developed stress tests and planned for how we'd adapt if we lost 10 or 20 percent of our business, or more. During those discussions we didn't plan for not losing any business, but that's exactly what happened.
Q: I assume it can be "lonely at the top" for you at times.  How do you relax, release your stress and rise above the endless list of problems you have to deal with each day?
Peplin: I'm never lonely!  We have grandchildren nearby, and dogs running around the house.  As far as hobbies, I play the ukulele and the standup bass, I ride motorcycles, pilot hot-air balloons, and I love to sail, fish and cook.
But really, I am obsessed-possessed regarding Talan Products, and I have a hard time letting it go. Even though the company doesn't need me to run, I still take responsibility for the strategy and vision for the company. 
So how do I unwind?  Give me a cigar, a glass of rum, a ukulele, and some sun, sand and a straw hat!

Posted in: News, Steve's Pep Talks