Open For Business – COSE Update (January, 2001)
January 23rd, 2001
Open for Business

By Sallie Hoelscher
From COSE Update – January 2001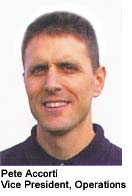 Although he knew the practice of "open-book management" was a bit unusual in smaller companies, Peter Accorti became intrigued with the idea 20 years ago when he read The Great Game of Business by Jack Stack. According to Stack's Web site (www.greatgame.com), open-book management—the sharing of financial data with all employees—is a piece of the "great game" process, defined as "a total management system that encompasses the basic components of a game, applies them to the art of running a business and allows the players (employees) to understand and help control their destiny in the business."
For Accorti, part-owner and vice president of operations for Talan Products, a metal-stamping company on Cleveland's West Side, open-book management enables him to use financials as tools to set goals and educate employees. Sounds good in theory, so where is the "but" …
Open-book management, Accorti observes, does not come without its challenges, because you are, after all, sharing your financial information with your employees. He recommends that you have a solid business infrastructure already in place, along with strong lines of communication.
This year Talan Products enters its third year of open-book management, and Accorti admits they are still fleshing out the process. He says it has made a major impact in two ways.
Culturally, says Accorti, "open-book management gives us a competitive advantage, because we're all focused on outcomes." And operationally, he feels it forces him to be a better businessperson because of the constant accountability.
But he warns that the practice is not a panacea. "It will not solve all of your problems. But it does help employees understand what the drivers are. There is a greater sense of team."
Talan Products, Inc., founded in 1987, has 50 employees and has been named to the Weatherhead 100 five times..

Posted in: News