On the Cutting Edge of Low Technology – Cleveland Enterprise (Spring, 1994)
April 23rd, 1994
From Crain's Cleveland Business
Spring 1994
"OUR COMPANY MOTTO IS 'Good parts, shipped on time, at the low bid,'" says Steve Peplin, president and CEO of TaIan Products, Inc., a Cleveland-based contract manufacturer specializing in long—run stampings and the fabrication and sale of aluminum extrusions.
Sales figures for the privately held manufacturing company were not disclosed, but were in the "under $5 million range" on the 1993 Weatherhead 100 list of northeast Ohio's fastest growing companies. Talan placed #6 on this list, with sales growth of over 1,000 percent and employment growth of 400 percent in the last five years. From 1992-1993, says Peplin, sales increased 50 percent. In the last three years the company has outgrown its 15,000 square foot facility located on Cleveland's west side. "We use off-site warehousing on an as-needed basis and plan to relocate when the right place comes along at the right price," Peplin says.
Talan's product mix is dominated by the appliance and building construction component industries, but it also includes fastener and retail display manufacturers; defense contractors; and electronics, container, and toy manufacturers among a growing list.
Peplin says that since 1986, Talan's client base has increased tenfold. The complete client list includes American companies and US-based but Swiss, German, and Japanese-owned companies that range geographically from California to Massachusetts and Arkansas to Hawaii. "I think that savvy business people know that partnering is a good way to build long-term business relationships particularly in an already mature, over-capacity industry," he says. "We are very used to partnering and being involved in projects from the design stage on."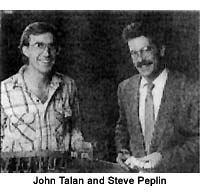 While Talan does a hefty amount of prototyping implicit in design, the company does try to distinguish its operation from high-volume manufacturers, "One of our biggest assets is to look at a part, come up with a redesign to ease manufacturing, and save the customer money," Peplin says. "Our input saves a project time and money and helps us in the long run."
Peplin says that he foresees a manufacturing renaissance in the Midwest and that the Cleveland infrastructure—its supplier base, labor pool, machinery support, and geographic location—make the Midwest a desirable location for Talan. The company was created with a $6,000 private initial investment.
Peplin; his brother Rich; John Talan, vice president of engineering; and Peter Accorti, director of operations, will pay off their first round note of capitalization in 1994. "We have an excellent relationship with Society Bank. This is a low margin business and therefore very capital—intensive," Peplin says.
Successful as it is, this manufacturing company still has hurdles to leap. Peplin says that a 10 percent increase in Talan's 1993 steel costs posed an immediate threat to its ability to make the low bid. "Without the low bid we're lost," Peplin says. To compensate for rising costs, he says, "We wear a lot of hats here and keep a minimal front office staff." In fact, every day Peplin, wearing his chief-of-sales hat, uses his background in contract and manufacturing repping for Talan, which does without a staff of outside representatives.
"We're on the cutting edge of low technology, and our biggest goal is to maintain a quality culture; it's more efficient than reinventing it later," he says.
Talan executives have also learned to use a contingency work force to accommodate the increased business during the company's third and fourth quarters, which is due to an increase in summer construction. "Last time this year we had 25 employees. Today we have 35 employees, most of whom operate machinery and receive a competitive wage, benefits, and bonuses," Peplin says. A temporary agency provides Talan with a workforce it can train and screen, and puts Talan executives in a position to make knowledgeable employment decisions. "Not one employee has quit this company, ever," Peplin says.
Talan's business may be low tech, but the company uses technological advances to increase its efficiency wherever possible. It has expanded its automation system to secure quality assurance and tie its information system together.
Implementation of Talan's new network is expected to increase the company's production capabilities and keep the growth rate up. "We hope to see another 30 to 50 percent growth in sales this year," Peplin says, "without doing it at the expense of quality."
Talan executives hope to introduce their own product to the market soon. (Until it's ready, they naturally prefer to keep the specifics about it to themselves.) With a few ideas and prototypes already in the works, they plan to create an innovative product, realize production efficiencies, and fine-tune existing components of the business. "Our own product will allow us to fight the marketplace rather than other stamping companies," Peplin say's. "But we know that we are primarily a job shop, that we bid on a small number of jobs and close nearly one-third of them—an unusually high ratio," he adds.
Talan is already capable of modem purchase orders and of exporting CAD drawings, and Peplin expects automation to add a new dimension to the company. "Our new automation system will expedite the entire work flow here from quotes all the way through to shipped products. In addition, we're really concentrating on expanding our quality control department, and we're doing more non-metallic stamping, including plastics," he says.
For now it's back to the grind in a small front office, attending to ringing telephones and new computers, designs, and clients. After all, a job shop has to stay focused on its core business. For a futurist like Peplin, it happens day by day, one customer at a time.

Posted in: News