Metal Stamping Company, Talan Products Celebrates 25th Anniversary
September 23rd, 2011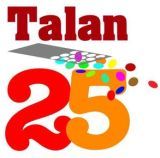 Did you know that Talan Products is celebrating its 25th anniversary this Fall? The company was started in 1986 by Steve Peplin.
Partners Pete Accorti(President) and Pat Parziale (VP, Manufacturing) joined soon afterward. Initially housed in a 3,000 square foot space, Talan has expanded three times. Talan's current home of 15 years is a 145,000 square foot manufacturing and warehouse space on the East Side of Cleveland. Currently a $25 million company with 50+ employees, Talan still has all four of its original customers. "It's one of the real keys to our success," says Steve. "We invest in our customers, and they've been loyal to us."
Originally in the commercial roof products area only, Talan now makes products for a number of industries including automotive, construction, and appliance, and also the fast-growing solar and LED markets. It has developed particular expertise in both high-volume progressive die stamping and aluminum extrusions fabrication, and has earned ISO 9001 certification. "We are particularly proud of our extremely low PPM numbers, and our value-added-per employee is 150% of the industry average," notes Steve.
Talan has been named to the national Inc. 100 list, the national Inner City 100 list, and has won numerous local awards for both growth and sustainability.
Stay tuned for more insights into Talan's future plans.
Tags: cleveland manufacturing companies, Cleveland Metal Stamping Company, Metal Stamping Companies in Cleveland

Posted in: News