From School to Career – Catalyst Cleveland (December, 2000)
December 23rd, 2000
Labor Pool Shrinking:
Act now, report urges educators and employers
By Sandra Clark
November / December 2000
From Catalyst Cleveland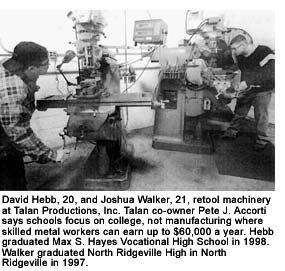 To stem the tide of unqualified workers, Cleveland schools, local businesses and community agencies are drawing up a plan to build a more sophisticated workforce. Together with the Greater Cleveland Growth Association, the district plans to assemble a School-to-Career Office, chiefly charged with translating business needs to schools. It also should see that skills and a rigorous curriculum are taught to students district wide.
"The business community is geeked up about the possibilities," says George Coulter, director of the Growth Association's Jobs and Workforce Initiative. "Now what?"
"I think things are going to change," says local business owner Pete J. Accorti, owner of a local manufacturing firm and an advocate of the School-to-Career movement, "I'm more excited about what will happen in the future than I am about what's happening now."
The school district must act now, the report says. There is "a newfound optimism" and "a sense of urgency" among employers that schools can benefit from, it says.

Posted in: News