Team NEO Success Award 2006 Given to Talan Products
March 23rd, 2007
Team NEO Success Award 2006 Given to Talan Products
March, 2007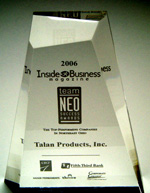 Talan Products, one of the larger independently owned metal stamping companies headquartered in Cleveland, OH was honored in March 2006 by Team NEO with the organization's 2006 Success Award. The Team NEO Success Awards salute the fastest-growing companies in northeast region of Ohio.
Team NEO is a private-sector-led economic development organization with two primary goals. The organization helps the region's employers grow their companies within Northeast Ohio and works to recruit medium to large companies to relocate to Northeast Ohio.
Team NEO works in conjunction with business and economic development partners on a continuing basis to help companies in Northeast Ohio reduce costs, introduce new products, explore new markets, step up marketing efforts, and increase customer service.
Team NEO works primarily with businesses in the medical/health care, financial services, chemistry, advanced manufacturing, and sustainability industries. These industries represent the present and future of Northeast Ohio, and many are among the leaders in the United States and the world.
Locally published magazine, Inside Business annually partners with Team NEO to recognize and honor the top-performing companies in Northeast Ohio via the Team NEO Success Awards.


Posted in: News