Open-Book Management – Cleveland Enterprise (Spring 2000)
April 23rd, 2000
Open-Book Management:
After a bad year in 1998, Talan products adopted an open-book management philosophy that has turned the company around.
By David R. Wasserstrom
From Cleveland Enterprise
This is one of the first companies I've worked for that's "That's had open-book management, and I think it's great," says Eugene Sawyer, second-shift production supervisor at Talan Products. "If you could have been here in December and seen these guys leave with bonus checks – everyone had a smile on their face."
Talan distributed $115,000 in bonus money in 1999, representing 12 percent of gross wages. And for the first time, Talan's internal culture dubbed Team Talan – has begun to attract outside workers to its ranks.
It wasn't always this way.
Not long ago, the owners of Talan Products realized that their company had become mired in mediocrity. As managers and floor workers passionlessly went about their daily routines, executives foresaw an inevitable slide in product quality and customer satisfaction. For this modest-sized metal stamping business at the heart of Cleveland's blue-collar West Side, it was a potentially fatal situation that sent owners scurrying for answers.
"We had a bad year in 1998, and part of it was the culture that needed mending," recalls president and founder Steve Peplin. "There wasn't really a smoking gun … but we're such a low-margin business that [you're] looking at 50 items," he explains, "and every one of them was a tenth of a point off because you spent a little more on shop rags, used more waste and were just a little less efficient. [Suddenly], there's 5 percent missing, and that's your profit margin."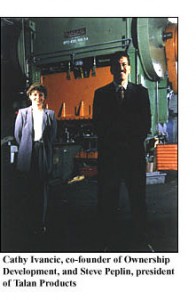 So Peplin began to ponder an idea his partner, Pete Accorti, had suggested a few years earlier: an open-book management style, whereby a company shares financial information with its employees, sets and measures goals and rewardsthose who achieve those goals – all in hopes of helping employees see how their work affects the entire company.
Peplin became especially intrigued by a well-known method of open-book management called The Great Game of Business, a phrase coined by the book's author, Jack Stack, and now marketed to businesses nationwide. Its underlying premise is to track performance based on a company's income statement.
In November 1998, Talan retained Cathy Ivancic, cofounder of Akron-based consulting group Ownership Development Inc., to help turn things around. Her first task: Identify what variables drive Talan's business forward while enhancing employee performance.
"We worked on developing an incentive that was easy to communicate, under standable and one that would pay for itself," Ivancic says. "That turned out to be a proportion of Talan's operating profits."
Ivancic and ownership agreed to set goals every six months and let departments create "minigames" to measure performance. The quality assurance department game, for example, was structured as a car race and measured quality against customer complaints during a three-month period. A large, graphic representation of the race was placed on a wall in the department and updated regularly. The result: Quality outpaced customer complaints.
The shipping department, meanwhile, focused on having each tow-motor operator complete a government-mandated safety checklist each morning without fail for one month. The reward: Leave work one hour early with pay.
A key step in this process involved teaching workers what financial indicators mean. Recalls Peplin, "At one class we held for the workers, an instructor held up a dollar bill and asked, 'How much of it does the guy on top get to keep for every dollar we sell?' They honestly thought that I put between 30 and 40 percent of it in my pocket. They've never had business classes before, and they don't realize that I actually get a little comer of the white border on one side of the bill!"
A year after the program's inception, Peplin still marvels at the results he sees throughout his company, whose dramatic turnaround has earned it a 2000 Manny Award.
Though Talan won't release specific figures, it reports that profits rose from a five digit loss one year to a six-digit gain during the next as sales increased 12 percent. "It was like throwing a switch … you could feel the change," he says. "Now I walk through the shop, and everybody cares."

Posted in: News