Cleveland Metal Stamping Company Talan Products Featured on 'The Sound of Ideas' Radio Show
October 28th, 2010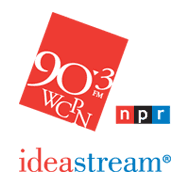 Talan Products' CEO Steve Peplin was featured on the Ideastream radio show, 'The Sound of Ideas.'
On the show, Steve discussed issues relating to the state of manufacturing in Northeast Ohio, both from a broad perspective as well as from the perspective of  his own Cleveland-based metal stamping company.  Steve touched on the fact that in general, manufacturing in Northeast Ohio is seen by many to be a dead industry, but the reality is that this is not the case.
Steve also talked about the ups-and-downs he and his company has seen through its 25 year history, including how the recent downturn of the economy has impacted his business.
The Sound of Ideas' is a Northest Ohio based radio news show that airs every weekday at 9:00 on 90.3 FM.  For more information about the show, visit the show's homepage.
Tags: Cleveland Manufacturing, Cleveland Metal Stamping Company, northeast ohio metal stamping company

Posted in: News