Getting bigger and better
February 26th, 2016
Size does matter, at least when it comes to both the size of our equipment and of our company here at Talan.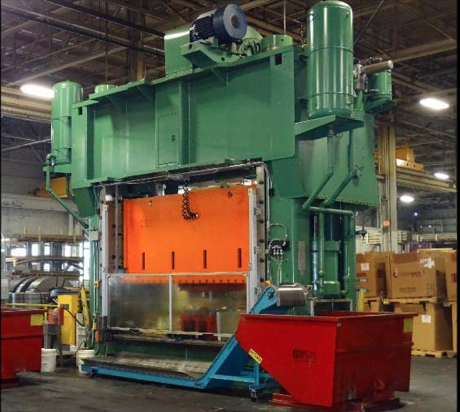 We are pleased to announce the installation of our latest new press, a remanufactured 600-ton Minster Hevi-Stamper, along with its new coil handling equipment capable of handling 30,000-pound coils up to 3/8" thick x 36" wide. As one of my friends (who is a heavy stamper) put it, "Welcome to the big league." Everyone would agree that 3/8" thick stampings are in the big league. The equipment has the capacity to handle 1/2" thick x 12" wide HSLA steel, and our new crane has a capacity of 40,000 pounds.
Markets served by our new press include solar collector racking system components and transportation (automotive and truck). We had a lot of outsourced work that has transitioned to being produced in-house at Talan, increasing our control and level of service.
Size also matters when it comes to the size of the company. We've all heard the saying, "It's not the size of the dog in the fight but the size of the fight in the dog." It's usually smaller dogs that say that. There is a right size for companies to be. In industry, you need to be big enough to spread out the support staff  (quality, shipping, accounting, HR, etc.) over a nice volume to be the most cost effective. Yet when a company gets really big, it can lose the drive and ambition that define younger, hungrier companies.
I had a sourcing vice president from a major automotive tier one firm tell me, "$35 million to $50 million is the perfect size for our stamping suppliers to be. They are still hungry, the owners are involved and they haven't succumbed to big-company thinking where they think they are more important than the customer." We're solidly in her perfect size for stampers. Our size also enables us to spread our fixed overhead costs over a larger amount of sales, thus making us more competitive. We still have small-company passion, coupled with big-company capabilities. We have successfully made the transition from an entrepreneurial style of management to professionally managed, yet we haven't lost our style and verve.

Posted in: Metal Stamping, News