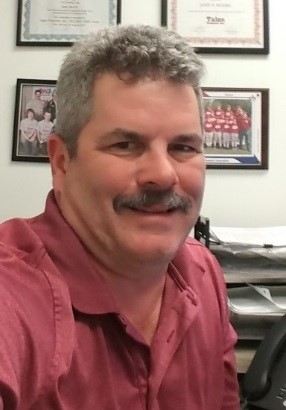 Nate Moore –

Maintenance, Facilities, and Toolroom Manager
Nate Moore is the Maintenance, Facilities, and Toolroom Manager at Talan Products Inc. He has spent over 30 Years in industrial maintenance, with the last 20 years in the metal stamping industry. In his current capacity Nate focuses on specifying and installing capital equipment, leading continuous improvement initiatives, plant safety monitoring and upgrades, and environmental sustainability.
Nate is a founding member of the Talan Products Green Team, where he implemented new sustainability processes and incorporated new technologies and systems. In his current position at Talan Products, he led a team that successfully implemented numerous sustainability initiatives, including an LED lightning retrofit, HVAC upgrades, energy efficient compressed air production, used oil reclamation and reuse and the installation of a water treatment system. Over a 6-year period, Talan realized a 46% reduction in energy usage and a 19% reduction in natural gas usage.
Nate is a graduate of numerous courses in sustainability, facility operations, and industrial maintenance. He is also a veteran of the US Navy, where he served as a nuclear electrician at multiple duty locations.