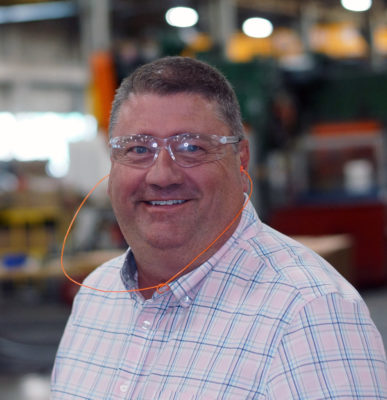 Fred Chordas – Engineering Manager
Fred Chordas is an Engineering Manager who collaborates with CEO's, Presidents, Engineers, and purchasing to help provide a cost effective solution to their manufacturing needs. For 36 years, he has worked with the executive levels to help solve their design, manufacturing, ergonomic, automation and cost driven initiatives to add value, efficiency, environmentally friendly, and productivity to their requirements. Fred has also experienced the hard work that is involved in the manufacturing process, running stamping presses from 50 to 2000 tons, metal shears, spot and mig welding, e-coat and electrostatic top coat applications, metal finishing, inspection and material handling as an hourly employee.
Fred has gained respect in the automotive capacity as someone they can turn to help solve any design or engineering issues they may experience. His years of experience ameliorate difficult issues that engineers experience in program launches. Fred has successfully launched hundreds of new products and processes in order to not only meet, but exceed the customers needs, accounting for safe operations for the employees. Delivering the product on time.
Fred has been working with automotive, heavy truck, material handling, solar, commercial, and lighting engineers for 36 years, and provides a manufacturing service unparalleled in todays industry. His ability to redesign existing expensive, unsafe, or high warranty products into economical, safe, and manufacturable products is notable in his patents. During his career he served as Director of Quality to ensure compliance to QS-9000 & TS-16949. Well versed in all aspects of manufacturing and understands the day to day nuances of running a machine for 8-12 hours and helping your fellow laborers.
Fred has redesigned powdered metal components that have caused significant warranty claims for General Motors to a cost effective metal stamping that not only cost less, but improved the functionality of the product by 600%. He has redesigned a cast aluminum fuel tank bracket for a major Class 8 truck company to a metal stamping due to the failure of the cast product to withstand shear forces and prevent the vehicle from exploding due to a collision with a half fuel tank. He also collaborated with a General Motors engineer to design an ASTM B500 structural tube to be formed and welded in order to provide a step to gain access to the cab of a GM/Izusu Class 6 truck. Not only was an acceptable design presented to General Motors, the added safety feature Fred provided would prevent a vehicle from getting wedged underneath the front of the truck in the case of a front end collision. Fred has been trained in the W. Edwards Deming statistical process control methodology. Toyota TMS, as well as customer specific requirements for Chrysler/Fiat, General Motors, Ford, Hundai, Honda, Freightliner, Volvo, Mack, Oshkosh, Hyster, Yale, NACCO, PACCAR, Navistar, Tesla, BMW, & Firestone.
Fred holds a Bachelors degree in Mechanical Engineering from Youngstown State University.